Road cycling in this area offers smooth road surfaces along the coast and in the mountains with hardly any traffic. There are plenty of beautiful whitewashed villages along the roads where you can enjoy a well-deserved "café con leche y una coca cola" during your break in the sun. The area has a wide range of tarmac roads throughout the impressive mountain range of the Sierra de Tejeda, Almijara y Alhama to Montes de Malaga and the Sierra Nevada.
Depending on your fitness and requirements we are able to customize your road cycling tour to meet your requirements. We have a great selection of road bike rides varying in length from 40-175km that have anything from 500-3000 metres of climbing.
We always tailor the rides to suit your ability and fitness level but at the same time, we want you to experience the best road cycling rides you have ever ridden. This usually means a bit of effort on the climb although this is more than made up for on the exhilarating descents that follow. Where there's an up, there's always a down! Always remember that we want you to get the most out of road cycling holiday with us so all rides can be extended, most rides can also be cut short too…..all you need to do is ask your guide! The only thing we can't do is make the rides flatter!!!
Here are some examples of our rides. We have plenty more. You can either choose one of these rides or your guide will find the best ride adapted to your level.
Here's A Few Of Our Road Bike Rides You Can Do With Us…
Vuelta 6 - Road Expert



A tour around the Sierras de Tejeda, Almijara y Alhama Natural Park
An epic tour around the Sierras de Tejeda, Almijara y Alhama Natural Park that includes stunning climbs and descents. You will cycle through lots of different landscapes during the day, all of them stunning in their way. Climbs through limestone peaks, an inland atmosphere of the northern part of the tour, beautiful lakes and the final part cruising back along the coast.
Elevation gain: 3 000 m
Distance: 175 km
Moving time: approx. 8 hours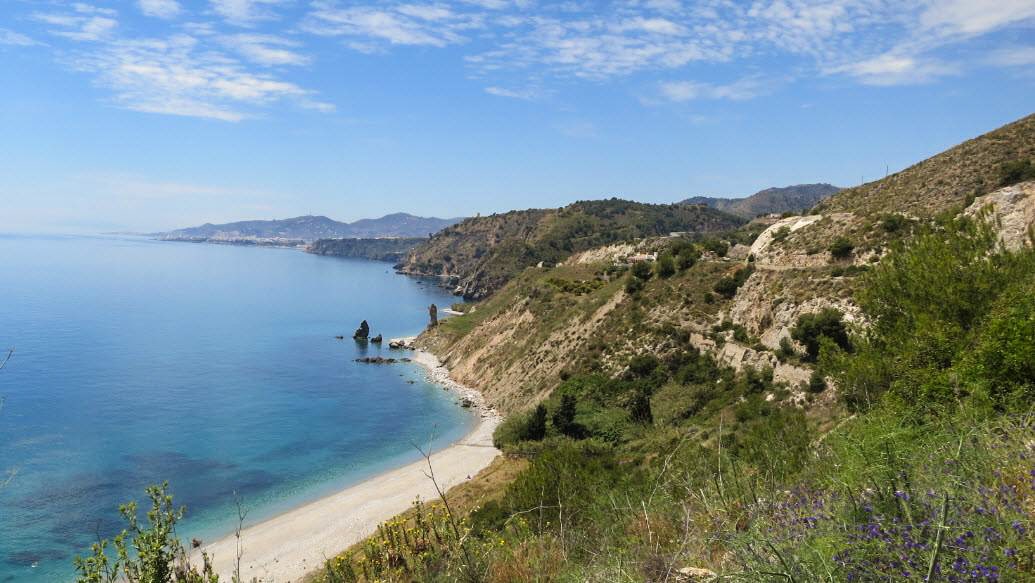 Vuelta 7 - Road/MTB Easy



La Herradura - Nerja
This introduction tour takes you along the beautiful coast between La Herradura and Nerja through Acantilados de Maro-Cerro Gordo Natural Park. It comprises sheer cliffs with beaches and hidden coves that are difficult to access. There are plenty of options to visit deserted beaches along the road. 100% tarmac roads except going up and down to the beaches.
Elevation gain: 500 m
Distance: 40 km
Moving time: approx. 2 hours
Vuelta 8 - Road Expert



Ítrabo - Pinos del Valle - Salobreña
Enjoy this expert tour with steep climbs and fast descents on sweeping curving roads with almost no traffic. The tour goes through a beautiful landscape with spectacular views.
Elevation gain: 1 800 m
Distance: 116 km
Moving time: approx. 5 hours
Vuelta 9 - Road Expert



Nerja - Competa
The beautiful mountain village named Competa makes a perfect stop for a genuine tapa and café con leche. The steady climb uphill promises a curvy roller coaster experience after the coffee break.
Elevation gain: 1 700 m
Distance: 100 km
Moving time: approx. 5 hours
Vuelta 10 - Road Medium



Almuñécar - Otívar - Lentegí
On this ride, you will climb up a road frequently used by "Vuelta de España". This beautiful area is full of tropical fruits and you will pass through two white-washed villages, Otívar and Lentegí. At the top, a "café con leche" with a beautiful view over the tropical fruit valley "Río Verde" is served.
Elevation gain: 900 m
Distance: 52 km
Moving time: approx. 3 hours